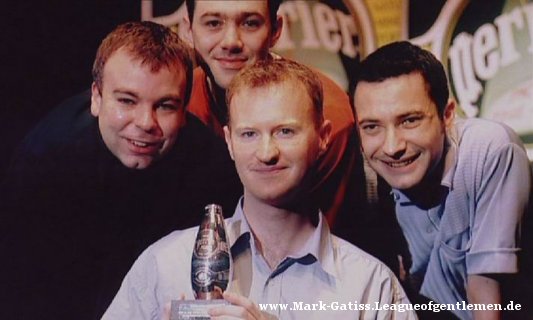 from left: Steve, Reece, Mark und Jeremy
What's the League of Gentlemen (The LoG)? Let's play possum and start from the beginning:
The innovative Comedy-Quartet acclaimed their first glory at the 1996 Edinburgh Festival. Just one year later they were awarded with the respected Perrier Award.
Born in different corners of northern England, Mark Gatiss, Steve Pemberton and Reece Shearsmith met in the early nineties at Bretton Hall College. The fourth Gentlemen, author Jeremy Dyson, was introduced soon to the group by Mark.
Their name "The League of Gentlemen" and the unmistakable outfit in dinner jackets was supposed to stand out from other Comedy-Groups. Mark explained: "The name and the appearances are a trick, to take effect as the old fifties revues. Our material is anything but this.
The success of their first performance in 1994 incited them: Mark stopped writing Dr Who novels, Reece said good-bye to the job centre and his personal person in charge, Jeremy wrote no more short-stories and Steve quit his job at the outskirts-Theatre. The next three years the League tested their material at the Canal Café in London, before they entered the Edinburgh-Festival with their unmistakable dark shocking comedy.
Afterwards the four got lots of offers. They signed a BBC contract and produced the radio series "On the Town with The League of Gentlemen", which won the 1998 Sony Award.

Out of the stage characters they created a whole town: Royston Vasey. This typical northern Hicksville is imaginary, but why Royston Vasey? Mark explained the name this way: "It sounds like an ordinary town, but you recognise somehow, that's something's wrong there". That hits the spot.
Many of the "endearing monsters" in the bizarre world of Royston Vasey have their source in reality. They arose from a situation that one of the Gents once experienced himself.

Pauline, the job centre's re-start officer for example. Her understanding of retraining is to train the unemployed how to sell the Big Issue. She was created out of Reece's experience when he was on the doll. "Pauline WAS my re-start officer. Even if the person itself doesn't exists, you recognise that kind of person".
The idea for the Denton's, the toad-breeding couple with delusions, sprang to live during a family visit of one of the Gents. Mark: "It is a quite real situation about a forced visit to one of the relatives. You never know, what to do"

Finally a version of Edward and Tubbs, Royston Vasey's psychotic shop-owners, who are aggressive to all strangers, really exists somewhere in Sussex and Papa Lazarou was once Reece's and Steve's landlord.
Main Source: ProSieben
At the beginning every visitor is welcomed by this sign: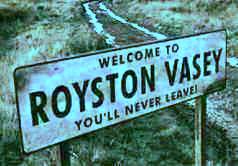 and you have to take this seriously. Hardly anyone is able to leave the town. This nice tow has got it's own local shop, where everyone will be welcomed with the phrase "Are you local". If you are not you get the answer "This is a local shop for local people, there's nothing for you here" and.... well, that's not to be given away here *gg*. All inhabitants are flashy and some kind of maniacs and as a non-local you are doomed. It's real fun to discover new things and information on the characters. How did Royston Vasey come to its name? That's an easy story: During series 2 the British comedian Roy "Chubby" Brown stars as the mayor of the city. His birth name is Royston Vasey. It's really simply, isn't it? You just have to get such an idea *gg*
There's one important thing. It's better to watch the series in order, or you might have some problems understanding the plot. It's amazing that one character, Herr Lipp" an English teacher from Duisburg, comes with his students to Royston Vasey. There's a really long part, in which he (Steve) and his wife (Mark) talks in fluent German. That was very surprising to me. But why Duisburg? Meanwhile I found some information on this on the net: During a 1992 theatre tour together with Reece through Germany Steve suffered a heart-attack at the age of 25 and had to be treated in a hospital in Duisburg. Since he had to stay over Christmas, a chaplain, who tried to chat him up in a rather clumsy way, like Herr Lipp always tries in the series, visited him.
The Gents writes in couples, Mark and Jeremy as well as Reece and Steve. It's faster written that way, but you have to combine the scripts afterwards.
At present there are 3 series of the LoG, that last one was transmitted in 2002 in the UK. Since November, 25 th 2002 you can buy the Christmas-Special on video and DVD. I've bought this one last year and who ever thinks that they can't outdo it, you have the think again *gg*. Series one and two were broadcast in Germany on Thursday nights. I was happy about it, that we at least had a chance to watch it, but I have to say that's it's loosing too much in the dubbing. It's not as funny as its origin. On December, 2 nd 2002 and December, 3 rd 2002 I had the pleasure to meet Mark, Reece and Steve after I went to see then in ART. You can read that story, following that link.
You have to like the dark British humour to like the series and I have to admit that The League of Gentlemen is my favourite comedy of all times. I ABSOLUTELY LOVE That show.
---
Jeremy Dyson
Birth name:
Jeremy Dyson (Jez)
Birthdate:
June, 14 th 1966
Height:
5ft 7
Eye colour:
brown
Hair colour:
brown
Marital Status:
Married to Niki
---
Mark Gatiss
Birth name:
Mark Gatiss
Birthdate:
October, 17 th 1966
Height:
6ft 1
Eye colour:
blue
Hair colour:
blond
Marital Status:
Boyfriend Ian
---
Steve Pemberton
Birth name:
Steven Pemberton (Pemby)
Birthdate:
September, 1 st 1967
Height:
5ft 9
Eye colour:
blue
Hair colour:
brown
Marital Status:
Friend Alison
Kids:
Lucas (2000)
---
Reece Shearsmith
Birth name:
Reeson William Shearsmith
Birthdate:
August, 27 th 1969
Height:
5ft 7
Eye colour:
blue
Hair colour:
black
Marital Status:
Married to Jane
Kids:
Holly (2002) / Danny (????)
---
(Those private information are from 2003. If you know of any changes, please let me know so that I will be able to update it]
You can find pictures of Mark's various characters here.
---
| | | |
| --- | --- | --- |
| Jeremy Dyson | | guest starring in various small roles |
---
| | | |
| --- | --- | --- |
| Mark Gatiss | | Al, Alvin Steele, Andrew Ward, Anthony "Neds" Needham, Brian Morgan, David Tattsyrup, Don Lynch, Edmund Chinnery, Gina Beasley, Dr Simon, Glenn Tilbrook Baggs, Haig, Hilary Briss, Iris Krell, Jed Bishop, Kenny Harris, Lance Longthorne, Lee Scott, Les McQueen, Lotte Lipp, Mama Lazarou, Martin Lee, Matthew Chinnery, Mick McNamara, Mickey M Michaels, Mr Bamford, Mr Peel, Mr Wynt, Murray Mint, Owen Fallowfield, PC Bobby Woodward, Phil Proctor, Professor Erno Breastpinch'd, Russell, Sheila Foot, Sir Nicholas Sheet-Lightning, Tony Bell, Val Denton |
---
| | | |
| --- | --- | --- |
| Steve Pemberton | | Ally Welles, Anne Hand, Ava de Courcey, Barbara Dixon (voice), Barrington "Barry" Baggs, Bob Chagall, Charlie Hull, Daddy, Dave Parkes, Dr Ira Carlton, Dr Lucas Wesley, Dr Timothy Majolica, Ernest Foot, Harvey Denton, Herr Wolf Lipp, Iain Cashmore, Inspector Shakespeare, Jed Hunter, Jed Tinsel, Lemuel Blizzard, Mary Hobbs, Maurice Evans, Mike Harris, Mr Best, Nancy Glass, Oshi Kurosawa, Pauline Campbell-Jones, Pop, Reenie Calver, The Mechanic, Tish Guppy, Tubbs Tattsyrup |
---
| | | |
| --- | --- | --- |
| Reece Shearsmith | | Benjamin Denton, Bernice Woodall, Bobby Hart, Cathy Carter-Smith, Chris Frost, Dean Tavalouris, Dr Edgar Fish, Dr Singleton Boothby, Edward Tattsyrup, Father Silas Halfhearte, Geoff Tipps, Henry Portrait, Interviewer, Joseph Nigel Lisgoe, Judee Levinson, Judith Buckle, Keith Drop, Matthew Parker, Mike King, Mr Fitzherbert, Mrs Jeanette Stevens, Noel Glass, Olive Kilshaw, Ollie Plimsolls, Pamela Doove, Papa Lazarou, Patch Lafeyette, Peter Foot, Red Devil, Reg Ingleby (voice), Rich, Robert, Ross Gaines, Samuel Chignell, Shirley Shelley, Stella Hull, Terry Lollard, Vinnie Wythenshawe |
---
Please note: Some of the character names vary in the writing. I decided to use the one the gents used in "The League of Gentlemen Scripts and that".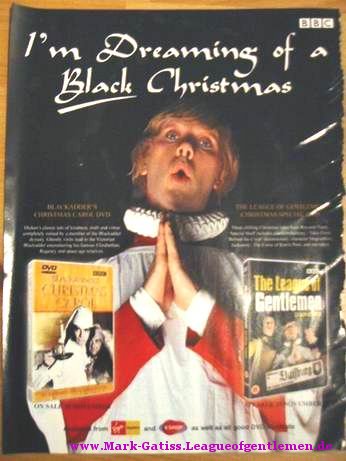 thanks to Luin for this pic
Titel
Year
Published as
Picture
The League Of Gentlemen's Apocalypse

03/06/2005

03/10/2005

Cinema

DVD/VHS

Live At Drury Lane - Special Edition
23/04/2005
DVD/VHS
League of Gentlemen 3. Staffel
10/11/2003
DVD/VHS
The League of Gentlemen - Scripts and that
16/10/2003
Book
League of Gentlemen Christmas Special
25/11/2002
DVD/VHS
Live at Drury Lane
19/11/2001
DVD/VHS
League of Gentlemen 2. Staffel
15/10/2001
DVD/VHS
A Local Book for Local People
01/10/2001
Book

League of Gentlemen 1. Staffel

13/11/2000
DVD/VHS
On the town with the League of Gentlemen
2000 - 01/07/2002
Cassette/CD
To avoid a very long time to load this site, I put the League of Gentlemen pictures on a different page. I also included a litte fun-site, please take a look here.
| | | |
| --- | --- | --- |
| Show | Year | Award |
| League of Gentlemen 3 rd series | 2003 | South Bank Show Award "Comedy" |
| League of Gentlemen 2 nd series | 2001 | NME Award "Best Television Programme" |
| League of Gentlemen 1 st series | 2000 | BAFTA "Comedy" |
| League of Gentlemen 1 st series | 1999 | Golden Rose of Montreux |
| League of Gentlemen 1 st series | 1999 | RTS Award "Best Entertainment" |
| On the Town with the League of Gentlemen | 1997 | Sony Silver Award |
| On the Town with the League of Gentlemen | 1997 | Talkie Award "Audio Comedy" |
| Edinburgh Festival | 1997 | Perrier Award "Comedy" |
I was a very lucky girl, when I had the chance to meet Mark, Reece and Steve in December 2002. You can read the story here.
Updated: 15/01/06
---