| | |
| --- | --- |
| | |
| | On 06/11/2006 Mark's latest novel "The Devil in Amber" will be published as an hardcover issue in the UK . The paperback issue will be published in January 2007. |
| | 30/10/2006 |
---
---
| | |
| --- | --- |
| | On 20/11/2006 the latest tour will be finally released on DVD. |
| | 30/10/2006 |
---
---

The Gents have already recorded a commentary for the release of the latest tour on DVD

28/05/2006

---

---

On 27/05/2006 Mark's latest Doctor Who episode "The Idiot's Lantern" has been aired on BBC, followed by the "Doctor Who Confidential" special on BBC Three, which is really worth watching.

28/05/2006

---

---

28/03/2006

---

---

Steve will be guest starring in"The Exonerated" from 21/03/2006 until 26/03/2006. More to find here.

18/03/2006

---

---

Mark and Jeremy will be at the Huddersfield Literature Festival on 17/03/2006.

10/02/2006

---

---

Reece takes over the part of Leo Bloom in the Westend Musical "The Producers" on 20/03/2006 at The Royal Theatre Drury Lane in London. He is supposed to play for a whole year.

26/01/2006

---

---

Steve has a guest appearance in the new BBC drama "Hotel Babylon" on 02/02/2006.

23/01/2006

---

---

The release date for "Lassie" will be on 07/04/2006. You can see Steve in it.

23/01/2006

---

---

On 27/03/2006 "Funland" will be released in the UK. This show was co-written by Jeremy, starring Mark.

23/01/2006

---

---

"Wallace & Gromit - The Curse Of the Were-Rabbit" with Mark (voice) will be published in the UK on 20/02/2006. The German release date will be 23/02/2006.

23/01/2006

---

---

On 30/01/2006 the second series will finally be published in Germany on a double DVD with lots of Spcial Stuff (Extras).

17/12/2005

---
---
Mark wrote another script for a Doctor Who espisode "The Idiot's Lantern", which will be aired in 2006.
11/12/2005
---
---
The LoG's Live Tour "The League Of Gentlemen Are Behind You" has been filmed on 09/12/2005 and 10/12/2005 in Hammersmith/London. So there is much hope for a near DVD release.
11/12/2005
---
---
Mark's latest novel "The Devil in Amber: A Luciver Box Novel" will be published on 02/10/2006. Currently there is no cover available. //

(28/12/2005) ..A new date for the publishing is 06/11/2006 now.
11/12/2005
---
---
| | |
| --- | --- |
| | Jeremy's latest novel "What happens Now" will be published on 06/04/2006. |
---

---

On 01/07/2006 Mark's Novel "The Vesuvius Club: A Luciver Box Novel will be published in Germany.

11/12/2005

---

---

Since 25/11/2005 "TLC (Dr. Flynn-Überleben ist Glückssache) is available on DVD in Germany. The DVD contains no extras, but includes a German AND an English track. If you are interested, you can order it at Amazon.de .

08/12/2005

---

---

On 03/10/2005 the LoG film was released in the UK on DVD. It contains no German track, but has lots of precious things on it. It really worth buying it.

08/12/2005

---

---

From 14/11/2005 on Mondays ProSieben aires "TLC (Dr. Flynn - Überleben ist Glückssache)" starring Reece as Dr. Lawrence Flynn.

---

---

Since 25/04/2005 the first series of "League Of Gentlemen" is available to buy in Germany. The DVD contains a German and English track and has lots of extras.

12/03/2005
---
---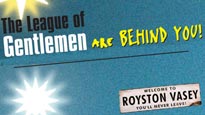 The League of Gentlemen live on Tour

12/10/2005
19:30
Bristol Hippodrome
Bristol, Avon
13/10/2005
19:30
Bristol Hippodrome
Bristol, Avon
17/10/2005
19:30
Carling Apollo Manchester
Manchester, Lancashire
18/10/2005
19:30
Carling Apollo Manchester
Manchester, Lancashire
19/10/2005
19:30
Carling Apollo Manchester
Manchester, Lancashire
01/11/2005
19:30
King Georges Hall
Blackburn
03/11/2005
19:30
New Theatre Oxford
Oxford
11/11/2005
19:30
Sunderland Empire
Sunderland, Tyne & Wear
12/11/2005
19:30
Sunderland Empire
Sunderland, Tyne & Wear
15/11/2005
19:30
Southport Theatre and Southport Hall
Southport, Merseyside
16/11/2005
19:30
King Georges Hall
Blackburn
17/11/2005
19:30
Grimsby Auditorium
Grimsby
18/11/2005
19:30
Brighton Centre
Brighton
21/11/2005
19:30
Grimsby Auditorium
Grimsby
01/12/2005
19:30
Carling Apollo Hammersmith
London
02/12/2005
19:30
Carling Apollo Hammersmith
London
03/12/2005
19:30
Carling Apollo Hammersmith
London
04/12/2005
19:30
Carling Apollo Hammersmith
London
07/12/2005
19:30
Carling Apollo Hammersmith
London
08/12/2005
19:30
Carling Apollo Hammersmith
London
09/12/2005
19:30
Carling Apollo Hammersmith
London
10/12/2005
19:30
Carling Apollo Hammersmith
London
Datas and ticktes from Ticketmaster.co.uk
---